A lot of the blogs I read on a daily basis are "Mommy blogs." I know it seems odd because I am a single, 20 something girl. My blog/life content is VERY different from those of the "Mommy" blogs. Well mostly because Im not a Mommy.

One of the Mommy bloggers, Chookooloonks started a blog movement called Love Thursday which has now turned into the website Love Is All Around

"Love Is All Around" is a site that proves that love is, indeed, all around us.Written by Irene Nam and Karen Walrond, this site arose from the popular "Love Thursday" submissions that have taken over the blogosphere. From personal stories and photographs submitted by readers, to anecdotes of love that make the front page news, you can find it all here. Because let's face it: you can never have too many reminders of love.

So today I decided I was going to start posting some love on "Love Thursday."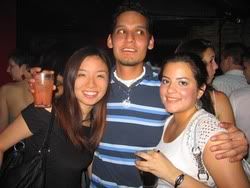 See that guy looking the other way in the picture? That is Santi.

Santi is one of my closest friends, someone who I've had many deep conversations with but most importanly someone whom I love very much.

That picture was taken the night I first met Santi in person. That's right I met someone from the internet, OMG, GASP!!!

Santi, Bob and I met on a message board, a message board about the Real World: Austin. We talked for months on that message board, about everything. One day the three of us decided that we had a lot of fun on the internet together so why not have fun together in like "real life."

So what better way for us to meet then at a club appearance of Ex Real World cast members: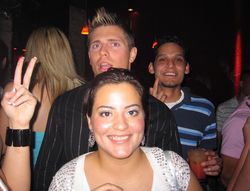 See me in the front? See Mike "The Miz" behind me? See Santi flipping off "The Miz" in the background?

See that type of thing, that's what makes me love Santi. With Santi I've experienced many things, many firsts:

Skinny Dipping
Gay Bars
Latin Night at RCC
I met my BFF through him among others
This Blog
Kickball
Screaming Fights Downtown (2)

That boy is crazy, as crazy as I am, if not even more.

But that boy, that boy is also one of the most beautiful people I've ever met in my life. Santi is kind, patient, intelligent, selfless, truthful, blunt and passionate. You know what I love the most about Santi though? Santi loves hard.

Loving deeply and freely is a hard thing to do, something most people don't know how to do but Santi he does. Santi knows how to love. Although love is hurting Santi at the moment, Santi will never stop loving. He'll never stop seeing good in people and giving his heart out because although Santi is young he has figured out that Love, well it keeps this world spinning.

I love you Santi, I know you're hurting and I know it aches but you my friend will find love more beautiful than you've ever imagined because you have been true with love. You have been true with yourself and given all there is to give, it will not comeback empty. Nothing ever does, especially not love.

Thank you for all you've brought into my life, I have no words to express how thankful I am for your life and for your love in my life. Your soul is among the most beautiful souls on this planet and I am blessed that your life has touched mine.